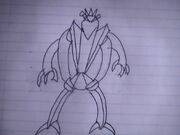 Sward is the first being made from swords and he's ready to fight.
he was a man called kenshi(swordsman) he was the greatest fighter in japan but one battle made him lose his life and when a witch revived him he killed all who slyaed him and took their sword and used it to make his new body.
Sward is not friendly to anyone unless they can beat him in a battle.
1.kakurangers
1.Alucard
2.Dracula
Ad blocker interference detected!
Wikia is a free-to-use site that makes money from advertising. We have a modified experience for viewers using ad blockers

Wikia is not accessible if you've made further modifications. Remove the custom ad blocker rule(s) and the page will load as expected.